Hawaii Highways road photos -- Cutouts cross-index
This page has cross-index tables for a few photos, in other parts of the Hawaii Highways road photos collection, showing old-style cutout route shields that can be found here and there on some of the islands, like the one shown here (in Pahala on the Big Island, on a back road no longer in the numbered highway system):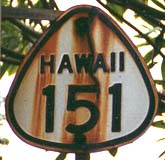 Unlike in Virginia where I live, and my home state of California (where cutout U.S. and state route shields are standard), state route cutout signs are uncommon, and are not being erected or maintained anymore. The signs still out there in Hawaii all have some rust damage, and usually reflect old route numbers and routes long deleted from the state highway system. They also appear to be non-existent on Kauai (where state and county highway personnel seem particularly diligent on sign maintenance, including removing outdated signs), and Lanai and Molokai.
Not included here are photos of some other cutouts no longer posted on roadsides, but rather stowed away in people's garages, etc.
The following tables each have three columns. The first is the route number, with a link to the Hawaii Highways route list which has more information about the route. The second has links to any photos of the cutout shield. "Regular" photos are generally edited to 200x280 (or 280x200) pixels, and compressed for fast downloads; "large" photos include more detail but the download will be much slower, with file sizes usually over 100K and sometimes much higher. The third column has the photos page where you can find the photo caption and other context for the cutout photo (including whether the cutout still exists -- at least one was taken down after I photographed it).
All the photos indexed here are my own, except the ones of former route 33 (now Maui County route 330), which are courtesy of Kurumi, and a former segment of route 72 (now unnumbered street), which is courtesy of Arlene Ching. Additional submissions, to cover photos not included here of photos still posted on roadsides, would be greatly appreciated; please e-mail me if you have such photos.

Oahu


Maui


Big Island

---
Back to Hawaii Highways road photos overview page
Back to Hawaii Highways main page
See also Adam Prince's Virginia cutouts collection
(includes many of my own Virginia road photos)
---
Comments, etc.? Please e-mail me.
© 1999, 2001, 2004-07 Oscar Voss.