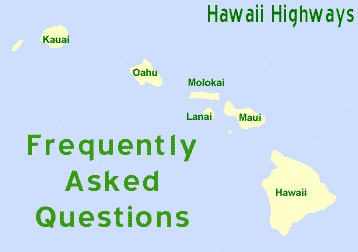 These FAQs are split into six pages for easier loading. This page contains the table of contents, followed by a short "About This Site" section. The next page is "Tips for Tourists", which you should look at first if you're planning a trip to the islands, but covers topics also of interest to "roads scholars." The remaining pages, as outlined in the table of contents below, include commentary on route numbers and names, Interstate designations and signage, etc. There's also a little road humor here and there.
Each page has, as applicable, big "Go back" and "Continue" buttons to take you through the FAQs in order (whichever direction you prefer). Each page except the first two also has a big "FAQs Page 1" button to take you back to this main page and its table of contents.
See also the FAQs on the Hawaii DOT Highways Division web site (geared mainly to Hawaii residents), and a separate public site with traffic cameras and other transportation information for Oahu.
---
Table of Contents
| | | | |
| --- | --- | --- | --- |
| | 2.1 | | What Hawaiian terms do I need to know for traveling Hawaii's highways? |
| | 2.2 | | How do people give directions on the islands? |
| | 2.3 | | When I asked a Hawaiian a question about "route 99," all I got was a blank stare. How much do Hawaiians pay attention to route numbers, anyway? |
| | 2.4 | | Some roads are shown with route numbers on maps, but when I try to find them I don't see any route markers. What gives? |
| | 2.5 | | How reliable are on-line or CD-ROM maps for the islands? |
| | 2.6 | | When I honk my horn at Hawaiian motorists to get them to move along, I get rude gestures in return. Why? |
| | 2.7 | | Speaking of gestures, someone waved at me like this [making a fist with thumb and pinkie finger sticking out in opposite directions]. What did that mean? |
| | 2.8 | | How hard is it to navigate around Waikiki and downtown Honolulu? |
| | 2.9 | | What about parking in Waikiki and downtown Honolulu? |
| | 2.10 | | What are the speed limits like in Hawaii? |
| | 2.11 | | What's speed enforcement like in the islands? |
| | 2.12 | | Are there any auto ferries between the islands, so I don't have to keep changing rental cars? |
| | 2.13 | | How expensive is gas in the islands? |
| | 2.14 | | How difficult are the Hana and Piilani Highways in east Maui? |
| | 2.15 | | Why do rental car companies hate the Big Island's Saddle Road? What other roads in Hawaii don't they like? |
| | 2.16 | | With those active volcanoes on the Big Island, there must be 50 ways to leave your lava . . . r-r-r-right? |
| | 2.17 | | What's with all those civil defense sirens, especially along the coast? |
| | 2.18 | | What's the meaning of those "kapu" signs often seen along roadsides? |
| | 2.19 | | How common are rest areas or truck stops along Hawaii's highways? |
| | 2.20 | | Why do Hawaiian highway and place names, and other words, have so many vowels? |
| | 2.21 | | Where can I get more help with Hawaiian words and place names? |
Page 3: Route numbers and names

Page 4: Interstates and other freeways

Page 5: Bridges, ferries, and tunnels

---
1.1 How come you're doing this site, and not someone from the islands?
This site was originally created by C.C. Slater, who now lives in New York, but lived in Hawaii a long time ago. He created an extensive network of highway system web sites, including Hawaii but also covering roads in much of the U.S. and even parts of the Caribbean.
In early 1999, personal circumstances kept Mr. Slater from maintaining his many sites, and he decided to give them up. Volunteers transferred most of his sites to other participants in the misc.transport.road Usenet discussion group. I asked to take over the Hawaii pages, even though at the time that state was the only one I'd never visited, because nobody from the islands participated in m.t.r., I thought the Hawaii pages would complement my planned Alaska road pages (still under construction), and I also had plans to visit the islands.
Since then, I have visited Hawaii six times -- a three and a half week visit in autumn 1999 to all six of the islands with state highways on them (which include all the inhabited islands except Niihau), followed up with a more focused two and a half week visit in May 2000 to Oahu, Maui, and the Big Island, a similar two-week visit (with day trips to Kauai and Lanai) in November 2001, a three-week visit to Oahu, Maui, Molokai, and Kauai in spring 2005, two and a half weeks split mainly between Maui and the Big Island (with a few days on Oahu) in January 2009, and two weeks mainly on Maui, Kauai, and the Big Island (with a brief stay on Oahu) in 2013. During those fifteen weeks, I conducted a great deal of "field research" to update and expand this site, which I think makes me about as well-positioned as any non-islander to write about Hawaii's highways. (Don't worry, I also got in more than enough beach time on Maui and the Big Island, and visited most of the main and many of the minor tourist attractions on all the islands.)
In particular, I've driven every mile of the numbered state highway system and of the numbered county highways, and almost all significant unnumbered highways, including the roads to the summits of the Mauna Kea and Haleakala volcanoes, and to the weather observatory high on the north slope of the Mauna Loa volcano. I also took lots of pictures of or from those roads, many of which are on this site. In addition, I visited and conducted interviews at the state and some of the county transportation departments, and did other research, as detailed in this site's Credits and Sources page.
It took me awhile to get around to visiting and driving the islands (not until age 42, more than a quarter-century since I started road-tripping as a California teenager). But now that I have, I've fallen in love with them, and plan to return periodically.
1.2 What's changed on this site from Mr. Slater's original site? What additional changes are in the works?
See the "what's new" page for more on these subjects. There is a link to that page, to the right of the Hawaii Highways logo on the main page, below the date of the latest site update; there's also a link from the Site Guide page. The "what's new" page also includes a log of recent changes to this site.
1.3 How often, and completely, is this site updated?
As the "what's new" page indicates, I make occasional minor changes to the site to fix errors, reflect major developments reported in the local press (which I try to read on-line regularly), and add photos and other information contributed by islanders and fellow visitors.
While I think I do a reasonably good job of keeping up with significant developments between visits to the islands, with help from the local papers and my readers, there are probably some changes that I've missed, particularly on Lanai and Molokai which I haven't visited lately. Also, links to external websites sometimes expire or change on me, without my noticing for awhile. So even if a page has a very recent revision date, I can't guarantee that all the information or links on that page are up-to-date. The detailed information in the route lists is most likely to be up-to-date. Keeping the Oahu Freeways exit guides up to date, especially with all the signage changes associated with the newly-signed Interstate H-201 designation of part of the Moanalua Freeway (not sure all those changes have been completed, even though they began in mid-2006), is also a bit of a challenge from over 4000 miles away.
My most recent "field check" for each island is as follows:
| | | |
| --- | --- | --- |
| Island | Last full field check * | Last partial field checks |
| Oahu | November 2001 | May 2005, January 2009, October 2013 |
| Big Island | November 2001 | January 2009, October 2013 |
| Maui | May-June 2005 | January 2009, October 2013 |
| Lanai | November 2001 | |
| Molokai | June 2005 | |
| Kauai | June 2005 | October 2013 |
* A "full field check" means I drove on that trip most or all of the current numbered highway network on the island. My coverage of former routes, or former alignments of current routes, is not necessarily complete.
I am still slowly updating the road photos pages, with lots of my photos taken in May 2005, and January 2009, and some more in October 2013. The information on the photos pages, and links to them, will not catch up to the updates of the rest of this site for awhile. The Saddle Road photos page is particularly out-of-date, with major improvements since that page was last updated.
1.4 What other web sites or books on Hawaii's highways should I review?
The web site for the Hawaii Department of Transportation's Highways Division is the only other web site with comprehensive coverage of highways throughout Hawaii (but only the state highway system -- there are no similar official sites for the county systems). The Hawaii DOT site is updated much more often than mine, and is the place to go for the latest road news, including construction and closures. It also links to a separate site with traffic cameras and other transportation information for Oahu (including county-maintained streets, and public transit).
Mark Furqueron has a page of road photos from several of the islands, which predates my own photos pages and is cited on some of them as an additional resource. Also cited on several of the Oahu photos pages is Ryan Ozawa's HawaiiRoads.com site, which is still under development but has many photos of Hawaii's Interstates, with more thorough coverage than is on this site. James Teresco has a ton of photos from his own first visit to Hawaii in late summer 2006 (covering Oahu, Maui, and the Big Island), including but not limited to road photos. Steve Alpert also has a lot of road photos, this collection covering all the islands except Lanai and Molokai. In addition, there are some other sites focusing on specific highways, such as Oahu's Interstate H-3 and the Hana Highway on Maui. My photo pages for those and other highways include links to those other sites.
As for books, I think the most useful one is Richard McMahon's Scenic Driving Hawaii (1997). McMahon lives in Hawaii, and has written several other travel books about the islands. His Scenic Driving book has detailed descriptions, including lots of photos and historical background, of a dozen and a half recommended scenic drives on all of the islands. I think it is the closest print alternative (or supplement) to my own road photos collections. It's a must-buy, for "roads scholars" planning to visit Hawaii, or even regular tourists who want to explore the islands' roads.
Richard Sullivan's Driving and Discovering Hawaii series of books (so far covering only Oahu, and Maui and Molokai) are also excellent guidebooks. They have more of a general tourist orientation than McMahon's book, but are also more focused on Hawaii's highways (and the sights along the way) than most other guidebooks. Sullivan's books have lots of gorgeous photos, including many of or from highways, as well as helpful maps and suggestions for where to stop and take your own photos. His web site includes sample pages from the guidebooks, as well as some of the road photos therein.
Roadside Geology of Hawaii, by Richard Hazlett and Donald Hyndmann (1996), provides interesting information about geological features visible from Hawaii's highways. It includes in particular some photos and other information about past lava and earthquake damage to Big Island roads, beyond the coverage provided by my Lava Closures photo pages.
1.5 So, Oscar, which are your favorite islands?
Maui nô ka 'oi (is the best). However, the Big Island is a close second (I'm partial to the Hilo side, with its easy access to the Kilauea volcano and the lava flows and fields downhill, even though Hilo is the rainiest city in the U.S.). Lanai is a nice island for a day trip to goof off in a rental 4x4 on its mostly unpaved roads. Molokai is a bit too low-key for me, but its lightly-traveled highway network (no stoplights anywhere on the island) is a delight.
1.6 Why the occasional Commonwealth English spellings on this site?
This site was originally done by Mr. Slater in Commonwealth English, and I decided to stick with that through the 2nd edition. However, "Pearl Harbour" freaked out too many readers, so I'm phasing out the Commonwealth English spellings for this version 2.5. Most have been changed in site updates for version 2.5, and I'll fix the remainder as I come across them.
---
Links to main page and other parts of Hawaii Highways site, and related sites:
Comments, more questions, etc.? Please e-mail me.
© Oscar Voss. Last updated January 2014.