Hawaii Highways Road Photos -- Lava Closures (page 1 of 2)
(Big Island part 3 of 6 -- other Big Island parts: Saddle Road
Observatories Roads · Red Road · Waipio Valley · Other Big Island)
About three dozen photos in this part cover roads and highways downhill from the Kilauea volcano on Hawaii's Big Island, which are or used to be closed by that volcano's lava flows.
Lava flows from the Kilauea volcano, beginning in 1986, closed part of the Chain of Craters Road in Hawaii Volcanoes National Park, and two connecting highways to what had been a coastal entrance to the park, state route 130 from Pahoa, and county route 137 (the "Red Road") running along the coast from Kapoho to Kalapana. A different part of Chain of Craters Road was closed by lava flows in 1969-1974.
(Some other Big Island highways have been closed by lava flows, such as parts of the Mamalahoa Highway (now part of state route 11) near the southwest coast in 1950, and roads near Kapoho on the southeast coast in 1960. Anyone who can contribute, or point me to, historic photos of closures not covered here, please e-mail me.)
The ongoing eruption of Kilauea is still "resurfacing" roads in the current lava closure area, most recently further shortening Chain of Craters Road, and obliterating some surviving stretches of pavement that had been cut off by earlier flows. With no sign of Kilauea letting up after two decades of continuous eruption, don't hold your breath waiting for roads to be rebuilt through the area. (Hawaii DOT tried once to reopen state route 130 after the initial lava closure, only to see the new roadwork wiped out by fresh lava flows. While last I heard the DOT would like to try again if Kilauea ever quiets down for awhile, I don't know how interested the National Park Service is in reopening its portion of the connecting Chain of Craters Road.)
For daily updates on what Kilauea's up to (constantly changing, no guarantee you'll get to see a show like I saw -- but you might get to see something better), check in with the Hawaii Volcano Observatory, including its Kilauea eruption update. Its excellent web site has photos of current volcanic activity, and also lots of interesting information on Kilauea and the Big Island's other volcanoes (including the much larger but currently quiet Mauna Loa).
---
Cautions? Nah, not really. Those of you asking hesitantly "there must be 50 ways to leave your lava . . . r-r-r-right?" needn't worry (even though there are few escape routes, as you can see from the map below). Kilauea is very closely watched by the Hawaii Volcano Observatory. It also has very slow-moving lava flows (no faster than slow walking speed). So if you're on a road that hasn't been closed to traffic, it is extremely unlikely that the volcano will catch you by surprise.
If you do hike off-road, in search of better lava viewing spots, do read and heed the signs placed at trailheads, telling you how to safely view the lava (you'll need good shoes, long pants, water, and a flashlight if darkness is approaching, among other things), as well as all the interesting ways you can die if you disregard the instructions.
---
This part of the road photos collection is divided into two pages. The 13 photos below on this page cover lava closures of Chain of Craters Road, and other lava flows, in Hawaii Volcanoes National Park. Page 2 covers lava closures of roads east of the park, and also the unpaved access road (briefly converted into the "Kalapana Safe Viewing" toll road, and recently reopened to the general public) built over the old state route 130 right of way.
Notes: Many of the photos below came from the extensive photo archives of the Hawaii Volcano Observatory's Kilauea eruption update. Those photos have "HVO" in their captions, and are courtesy of the U.S. Department of the Interior, U.S. Geological Survey. Two are courtesy of Tim Reichard, from his visit to the Big Island in January 2005. The remaining photos are my own, from my 1999 tour of Chain of Craters Road in the national park, and 2000 and 2001 lava-viewing visits from east of the national park.
In case you want more detail, clicking some of the photos below (for now, just a few from my 2000 trip, more from my 2001 trip, and Tim Reichard's photos, plus some of the HVO photos) will call up enlarged, higher-quality (less .jpg compression) versions. Those alternate versions have larger file sizes, so please be patient while they download.
---
Map of current lava closure area (reflecting pre-closures road network -- contrary to the map, Route 130 never entered the national park area shown in green except perhaps pre-statehood, but rather stopped at the park boundary, where it met the park's Chain of Craters Road):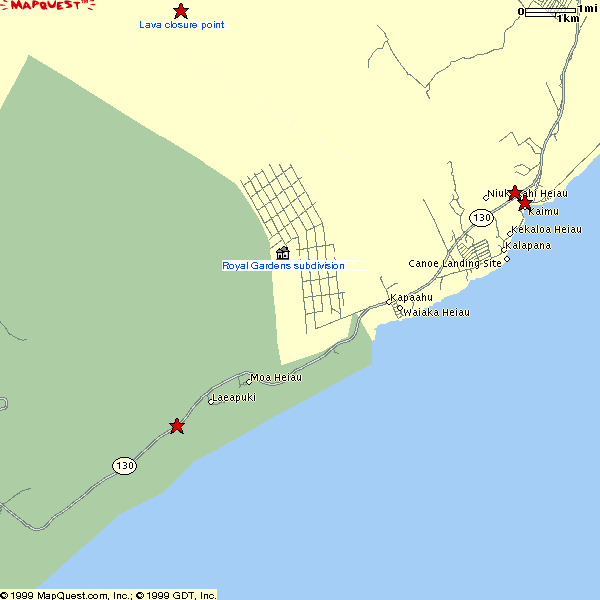 ---
The two photos above are from the part of Chain of Craters Road in Hawaii Volcanoes National Park that is still open, showing some of the lava flows in 1969-1974 that closed much of the road until Kilauea quieted down (temporarily) and the road was rebuilt through the new flows (as shown in the photo above right). (Both photos October 1999)




As of October 1999, this was the closure point where the lava had "resurfaced" Chain of Craters Road, in a series of flows ending in 1997. As shown below, later lava flows have shortened the road a little more.
Until recently, east of the closure point shown above, there were isolated segments or "kipuka" of Chain of Craters Road that had escaped the lava. The photo above shows some of the kipuka in the Highcastle area, and lava starting to cover portions of them. The most recent lava flows, beginning in mid-2002, have not only moved the Chain of Craters closure point to the west (as shown in the photos below), but also covered all the remnants of the road within the national park. (HVO August 9, 2002)

Beginning in July 2002, and continuing into early 2003, Kilauea's lava flows began moving west, burning asphalt and closing about another 0.2 miles of Chain of Craters Road. (HVO February 13, 2003)




On one newly-covered section of Chain of Craters Road, west of the former closure point, some signs survived the new flows (as did, briefly, a little bit of pavement in the background, which since has been covered as well). However, the 1100ºF+ lava was not kind to the surface of this speed limit sign. (HVO March 1, 2003)


No fooling! On this April Fool's Day, hot pasty lava oozing around the signpost onto Chain of Craters Road strictly enforces the "No Parking" regulation. (HVO April 1, 2003)


A "no parking" sign, either the one shown above or some other one near the current end of Chain of Craters Road, sticks out of the solidified lava, faring better in its close encounter with the hot lava than did the speed limit sign shown above. (January 2005, courtesy of Tim Reichard)
This is the current end (as of March 2005) of Chain of Crater Road's surviving pavement. This part of the road is closed to motor vehicle traffic, past the Holei Sea Arch parking area just to the west. The damaged warning sign is one of many the Park Service posts to warn of potential hazards to lava-watchers (in this case, walking onto unstable lava benches, which can slide into the ocean and take you with them, and also splatter incautious onlookers). (January 2005, courtesy of Tim Reichard)

---
or directly to other parts of the Hawaii Highways road photos collection::
Overview · Introduction · Interstate H-3 · Interstate H-1 · Other Freeways
Other Oahu South · Other Oahu West · Other Oahu East · Kuhio Highway
Other Kauai · Hana Highway · Piilani Highway · Kahekili Highway
Other Maui · Lanai/Molokai · Kalawao County · Saddle Road
Observatories Roads · Red Road · Waipio Valley · Other Big Island
or to other sections of the Hawaii Highways site:
---
Comments, etc.? Please e-mail me.
© 1999-2003, 2005, 2008 Oscar Voss (no copyright claimed on HVO photos, which are in the public domain). Last updated March 9, 2008.